Space Saving Disappearing Pocket Doors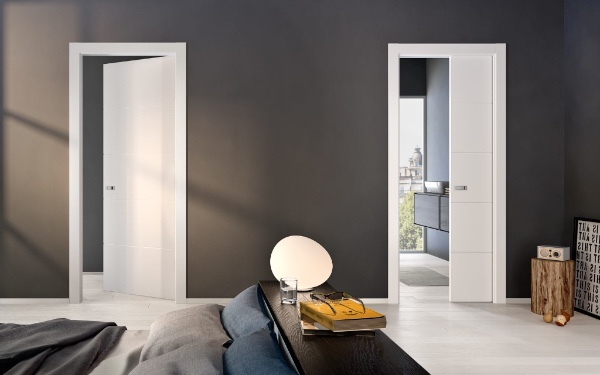 The ever popular Disappearing Pocket Door is an additional option that you can specify when ordering doors. It is the ideal space saving solution for tight spaces such as downstairs cloakrooms, ensuites, dressing rooms or a design feature between rooms creating that Life Style Ambience to your project. The Pocket Sliding door is s fully Part M compliant for disabled access. All of the hinged doors as wooden and glass can be installed into the Pocket Kit. Our Pocket Kit comes pre-assembled, complete with track and brush strips in a range of wall thicknesses and are manufactured by Mito of Italy, seriously forget the rest and fit the best!
Features :
The Pocket Door Kit can be used with all of the Garofoli Group Doors but excluding the Fire Door Range. The Pocket Kit for both standard and non standard dimensions can be available onsite within 14 days of ordering. Installation is usually programmed for during the plastering stage into either studwork or masonry with the door panel being ordered to arrive later.
The Pocket Door Kit has the options of Soft Closing and Simultaneous Operating Mechansim for Double Doors with models to take architraves or for a minimalist design without the architraves. The door panel will have a finger pull on the face edge with the option to specify recessed handles and bathroom locks in a ranges of finishes.
Costs : Budgeted cost of Pocket Door Kit from £350 delivered excluding the door panel.
Pocket Kit Standard Dimensions for Clear Passage Dimensions are :
Single Doors 600/700/800/900/1000/1100/1200 x 2000/2100 mm with non standard dimensions and maximum height of 2700 mm.
Double Doors 1200/1400/1600/1800/2000/2200/2400/x 2000/2100/ with non standard dimensions and maximum height of 2700 mm.
For all other structural opening dimensions please request a quote.
Call for further assistance and to request the technical data Tel 01752 547435
Pocket Kits Complete with Frame and Architraves :




A1 Base Single A2 Base Double A3 Base 2 Leaf A4 Base 4 Leaf
Pocket Kits for Minimalist Appearance without Finishing Frame and Architraves


A5 Easy Single A5 Easy Double
Download the Garofoli Glass Brochure for Glass Designs from the Brochure Download Area on the Home Page. All of the ranges have a wide range of glazed door panel options which you can view in the relevant brochure.